Chippewa Falls, WI Car and Truck Parts
John's Auto Parts
Quality parts for everyone, from professionals to do-it-yourself enthusiasts. Whether you need parts fast for a customer's repair or just looking to get that old Buick in the garage running again, you can find everything you need here at John's Auto Parts, and all at affordable prices.
Don't replace a part only to have it break again.
Buy in confidence here, as you can always count on us to provide only the best in products so once you're finished with your repairs you can focus on listening to the engine roar, not roaring at all the money you've spent on inferior parts!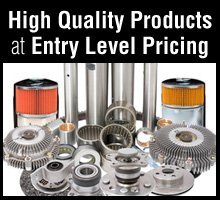 Learn more about John's Auto Parts:
Brakes and chassis
Clutch and driveline
Cooling
Engine management
Electrical
Engine and filtration
Call John's Auto Parts today at 715-723-9131 or come down to 212 E. Columbia St. and browse our vast selection of high quality products, all at entry level pricing.
Hours of Business:
Monday through Friday: 8:00 am – 9:00 pm
Saturday: 8:00 am – 5:00 pm
Sunday: 11:00 am – 4:00 pm